The English Motorway System is Beautiful and Strange
A reply is in order to the hilariously vitriolic attack on Saint Etienne over at
The Impostume
. I too recently purchased their best of for a very reasonable sum (well, maybe 2 quid is a bit steep for Lewisham Save the Children) and had a familiar mix of rapture and cringe. There's plenty of the latter to be had. The notion that you might want to 'join their club' (though isn't most great pop based on exclusivity?), that bloody voice (hard to take even on their finest moments- best the less breathy it is) and sure, the unalloyed niceness (though give me that over Razorlight splay-legged in Leather jackets and jeans).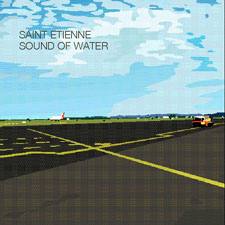 There's a reconfiguring and rearranging going on that fascinates, a rewriting of pop history so that it runs from Francoise Hardy to Stock Aitken and Waterman to Basic Channel to Girls Aloud. What stops this being the usual pomo gaming is the enthusiasm that pervades it, an assemblage of great stuff that then takes on a different coherence, particularly through a fixation on un-rock categories like film and design. Sometimes via this they hit on something genuinely other, particularly when a degree of ice is added to their sugar- as in the m25 Moroder of 'Like a Motorway', summoning the sadness of service stations and arpeggiating the eerie beauty of asphalt; or the hungover shivers of
Sound of Water
with its Ballardian sleeve; and it might lack lust and grit and such, but I'll take the dizzying derives of 'Avenue' instead thanks.
Julie Burchill writes in the sleevenotes to
Too Young to Die
that Saint Etienne 'resides in select sites and states of mind', and from these one could arrange a map of another London, one less grindingly horrible. It was great to see Bob Stanley writing about the joys of vintage formica caffs in the free paper
The Londoner
, although this may not help my case much, seeing as the
New Piccadilly
, as used in the inlay of
Too Young to Die
is also the set of Richard Curtis' foul
The Girl in the Cafe
. The map would have on it the ruins of Ronan Point on the cover of
Finisterre
,
Joseph Emberton
's council block Turnpike House, the bulldozed picture houses and closed down football grounds of 'Heart Failed in the Back of a Taxi', the list of teeming suburbs in
Foxbase Alpha
. A 'town of misguided tourists', a desolate death of postwar utopianism, a derelict 1920s broadway at the end of the Piccadilly Line...
But yeah, it's a hard voice to love.